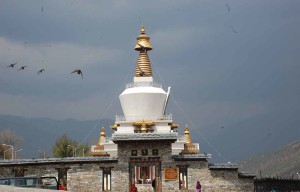 Visiting Bhutan by flight is by far the most comfortable way how to get into the country. Flights to Paro International Airport are operated by the state-owned DrukAir or private Bhutan Airlines. There are also options to charter the flight.
We will be happy to process non-binding reservation of your flight. Once seats are reserved, you will get time limit (usually a few weeks or even months) during which you need to purchase the ticket or drop reservation. We will be happy to handle the process for you, just Contact-us
It's also possible to buy flight tickets through the airlines online booking system. In this case, you need to buy the ticket immediately, paying by card. Please mind, that some customers were reporting problems with the online booking system, so we don't really recommend this.
We always suggest arranging flight tickets well in advance, optimally around 6 months prior to your travel. Especially in high tourist season, the flight ticket is sold out very quickly after booking is open.
All travellers to Bhutan require a visa (with the exception of individuals from India, Bangladesh, and the Maldives, for whom the applicable formalities and fees are explained individually below).
You will be required to pay the Sustainable Development Fee (SDF) of US$100 per day (per adult; concessionary rates apply for minors) as part of the visa application procedure. More information about the SDF is available here.
There is also a non-refundable, one-time visa application charge of US$40. You may apply for a visa or permit online by filling out an application form, or if you're going with a tour operator or staying in a hotel, they can apply on your behalf. You can also apply for yourself and anybody else going with you, as long as you have the necessary documentation.
Destinations, costs and flight schedules
Best connection from Europe to Bhutan is through New Delhi, Kolkata or Kathmandu. Another option includes Singapore, Bangkok, Dhaka, and Mumbai. In some days, it's also possible to fly to some minor airports in India like Bagdogra in West Bengal (gateway to Darjeeling and Sikkim), Gaya in Bihar or Guwahati in Assam.
For flight schedules please see the airlines websites below:
Paro International Airport
Paro International Airport in Bhutan has fame of the most difficult international airport in the world. It lies in the elevation of two and a half thousand meters and it's surrounded by almost five thousand meters high mountains. However, there is no reason to be afraid to fly to Paro. Pilots are very well trained and they never take any risks. In case of bad weather, there are chances of delays. In some cases, the flights can be diverted to another airport. In such a case, you better stay cool; it's for your own safety.
Apart from Paro, there are three more domestic airports in Bhutan: Bumthang in central Bhutan, Yongphula in the east and Gelephu in the south. As of now, Bumthang flights are operated by DrukAir 3 times a week. Gelephu is getting 1 flight a week. Yongphula is under repair and should become operational thorough the 2016 (no guarantees).
Bhutan Flight Route
By Road
Entry routs by land are:
Bagdora (India) to Phuntsholing.
Bagdora (India) to Gelephu.
Guwahati (India) to Samdrup Jongkhar.