In the early days our country was only accessible by foot or horse. But now it can be accessed by many modes of transportations like road and air and there are mainly four entries to our country.
Paro: Its in north west of Bhutan. We can come to Bhutan via Paro by air. Bhutan's one and only international air port is located at Paro.
Phuntsholing: Its in south-west of Bhutan. It shares the border with Indian town Jaigaon under state of West Bengal.
Samdrup Jongkhar: its the entry point from the eastern part. It shares boundary with Daranga under Assam state(India).
Travel By Air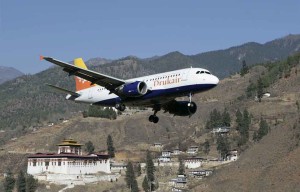 The country has so far only one airport that caters to the needs of visitors coming in through flight. The Bhutan's only international airport at Paro, is located at a height of 7300 ft above sea level and surrounded by mountains and hills as high as 16,000 feet. Druk Air is the national air operating with two A319. It flies to destinations that include Bangkok, Delhi, Mumbai, Kolkata, Bodh Gaya, Dhaka, Singapore, Kathmandu and Guwahati in Assam.
The flight between Paro and Kathmandu passes over many mountains in the world including Mt. Everest the highest Peak in the country.
Travel By Land
Phuntsholing, Gelephu and Samdrup Jongkhar are the only land border areas open for international tourists. The town of Phuntsholing is located approximately 170 km east of the Indian national airport Bagdogra. And it is 176km from Thimphu the capital of Bhutan and it takes about 6 hours to reach Thimphu.
Samdrup Jongkhar is the only entry point in eastern Bhutan. The town borders the Indian district of Darranga, Assam and is approximately 150 kms away from Guwahati, the capital city of Assam. The journey from Guwahati is about three hours. Tourists entering Bhutan through Samdrup Jongkhar have to take route via Trashigang, the largest District in the country, Mongar, Bumthang, Trongsa, Wangde Phodrang and then finally into capital, Thimphu. The distance is about 700 kms and will take you a minimum of three days to reach Thimphu.