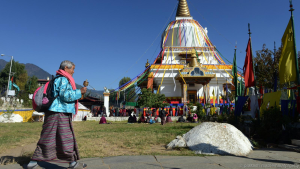 Among the unique economies in the world, Bhutan is the only country in the world which measures its progress not in terms of wealth, but by how happy the people are. Bhutanese government has introduced the concept of Gross National Happiness precisely because of this reason. While other nations are guided by the concept of Gross Domestic Product to measure progress, Gross National Happiness stresses on prosperity and more importantly the happiness of people.
Gross National Happiness: What It Involves?
All round Socio-Economic Development

Conservation Of Cultural And Spiritual Heritage

Preserving Nature & Environment

Good Governance
The concept of Gross National Happiness involves encouraging material growth along with spiritual development. Spiritual growth involves embracing national values & traditions which are seen as the stepping stones to achieving happiness. Gross National Happiness further focuses on concepts like self reliance and self sufficiency.
Seeing the many advantages of this concept, many countries have come forward and embraced Gross National Happiness. In February 2004, an international seminar was held in Bhutan where the participating countries, by mutual agreement, formed the Gross International Happiness Network (GIHN).