Day 01. Arrival to Samdrup Jongkhar from Guwahati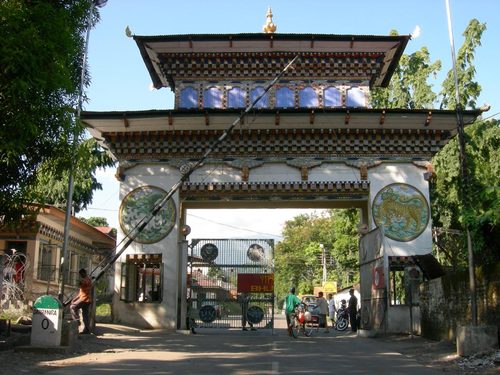 Morning 3 hours drive from Guwahati (capital of Indian state Assam) to Bhutan's border in Samdrup Jongkhar. Overnight: samdrup Jongkhar. Elevation: 200 m
Day 02. Samdrup Jongkhar – Trashigang.
All day drive ascending to the Himalayas. After few hours drive we will stop to get blessing from Hindu hermit for safety of our journey. Soon after you will have opportunity to visit first of many charming Bhutanese Buddhist temples, called Zangto Pelri Lhakhang, with detailed mural painting. During afternoon you will stop in Khaling village to visit National Handloom Development Project, which maintains rich tradition of local weaving. Also you will pay a visit to the National Institute for the Visually Impaired. One of the accomplishment of this progressive institution is the development of Bhutanese version of Braille's script.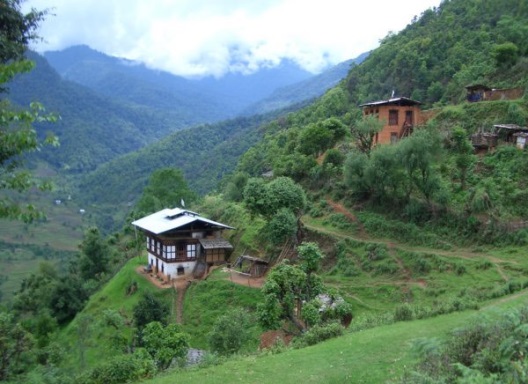 Along the way, you'll also pass by Karma Thegsum Dechenling Goemba, huge monastery school and Sherubtse College, first Bhutanese university campus established in 1978. Also You will visit temple in nearby Kanglung village. Overnight: Trashigang ( Elevation: 1100m)
Day 03. Trashigang, excursion to Trashi Yangtse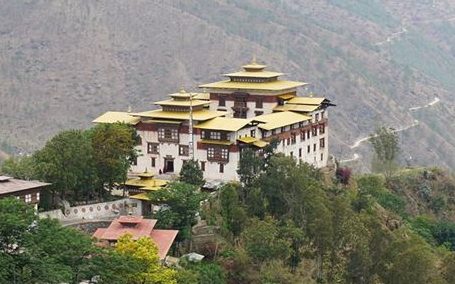 Morning visit to Trashigang dzong which was built in 17th century and has commanding view of the valley. Inside are few interesting temples and local government offices. After that you'll take about 2 hours drive time to Trashi Yangtse. On the way, pay a visit to the Gom Kora temple, place where 8th century magician-saint Guru Padmasambhava left his body imprints. Further drive will offer occasional views of snowy mountain in clear weather. Finally you will see impressive building of the old Trashi Yangtse dzong which is home to 300 monks. The dzong used to protect former trade route with Tibet and was established by the saint Pema Lingpa of 15th century. The temples with valuable statues are worth of exploring. Also near the Trashi Yangtse is the famous Chorten Kora, the largest stupa in Bhutan built in Nepali style. This is the site of two colourful local festivals at the beginning of the year.
Trashi Yangtse is also home to National Institute for Zorig Chusum, the school where the young people learns the art crafts of their forefathers to keep Bhutan's traditional arts alive. Evening return to Trashigang. Overnight: Trashigang
Day 04. Trashigang – Mongar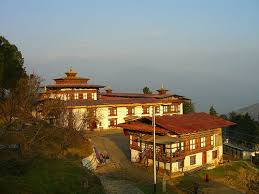 It's just 3½ hours drive to Mongar but it would be a pity not to make a 2 hours detour to Dramtse Gompa, which is one of the most important monasteries of eastern Bhutan. This is the place from where the famous Naga Chham (Drums of Dramtse), mask dance with drums originated. This dance is ubiquitous feature of many festivals and also it was included to the UNESCO list of of oral and intangible heritage. Monastery itself was founded in 16th century by descendants of the saint Pema Lingpa and it's name means "the peak where there is no enemy". There is number of interesting chapels with a lot of important statues of the saints and protector deities. If you're in mood for short hike, you can also pursue 1.5 hour scenic hike from Dramtse to Baging la via Shergang village. After reaching Mongar, you will pay a visit to it's dzong (castle). Although built in 1930, the dzong maintains Bhutanese architectural traditions. Overnight: Mongar. Elevation: 1600m
Day 05. Mongar, excursion to Lhuntse
Morning drive to Lhuntse which is one of the most rural and isolated districts in Bhutan. The landscape is spectacular with stark cliffs and gorges, beautiful conifer and pine forests and remote villages with rice, millet and corn fields. Kurtoe region of Lhuntse is the ancestral home of Bhutan's royal family. On the way, we will make a detour to Takey la, the place where the gigantic statue of Guru Rinpoche was recently built. Inside the statue, you find number of richly decorated chapels, which belongs to best in Bhutan.
Further you will continue to Khoma village for most elaborate traditional cloths in Bhutan. Quality of weaving is so fine that even Royal Family places their order for clothes here. Village itself is interesting and beautiful so we will spend some extra time here having a lunch in local house and tasting local delicacies. Then we will continue to Lhuntse to see a dzong which belongs to one of the most spectacular monastery-castles in Bhutan, with total 7 chapels you can explore. Residing monks have welcoming reputation. Drive back to Mongar.
Day 06. Mongar – Jakar
The journey continues westwards winding through more rugged terrain. The drive will take minimum 7 hours, but it won't be boring at all. Road offers most spectacular views in the country ascending 3200 meters in the distance of 84 kilometres. After about a hour drive, you'll pass along the ruins of Sengor dzong, which burned to ash in 1899. Chortens on the roadside are built in memory of 300 labourers who died during roadbuilding in 1970's.
You'll also come along the stunning Namling waterfall. After crossing the second highest motorable pass in Bhutan, the Thrumshing-la (3,580 m), you gradually descend to clustered village of Ura. It's good idea to stop at rhododendron garden just after the pass to see the number of species of this beautiful tree. From Ura village we will continue drive to the Shertong-la pass (3580 m). Right after that in sharp turn, the Gangkhar Punesum, highest mountain in Bhutan might be seen in clear weather. Reaching Jakar in the evening. Overnight: Bumthang Elevation: 2600 m
Day 07. Jakar, excursion to Tang
Drive to Tang valley and hike to Ugyen Choling palace which hosts wonderful private museum with carefully selected display of artifacts used in medieval Bhutan for various activities. If you feel strong, you can climb to Kundzongdrak gomba overlooking valley from sheer cliff. Otherwise you can visit nunnery, hosting the Buddhist nuns of all ages. Also you should not miss so called "Burning lake" Membartso where the treasure of scriptures hidden by magician-saint Guru Rimpoche were discovered by the saint Pema Lingpa.
Day 08. Jakar – Phobjikha
After breakfast drive to Phobjikha valley. Enroute visit Chumey weaving centre, Ta Dzong and Trongsa Dzong. Driving Time: 6 Hours. Overnight: Phobjikha elevation 2800m.
Day 09. Phobjikha – Punakha
Phobjikha is a bowl-shaped glacial valley on the western slopes of the Black Mountain. This valley is also the winter home of the black-necked crane. In the morning you can do a Gangtey nature hike which is about 2 hours beautiful hike in the valley. Visit Gangtey Goemba and then drive to Punakha.
Driving Time: 2 hours Over night: Punakha Elevation: 1300m
Day 10. Punakha- Thimphu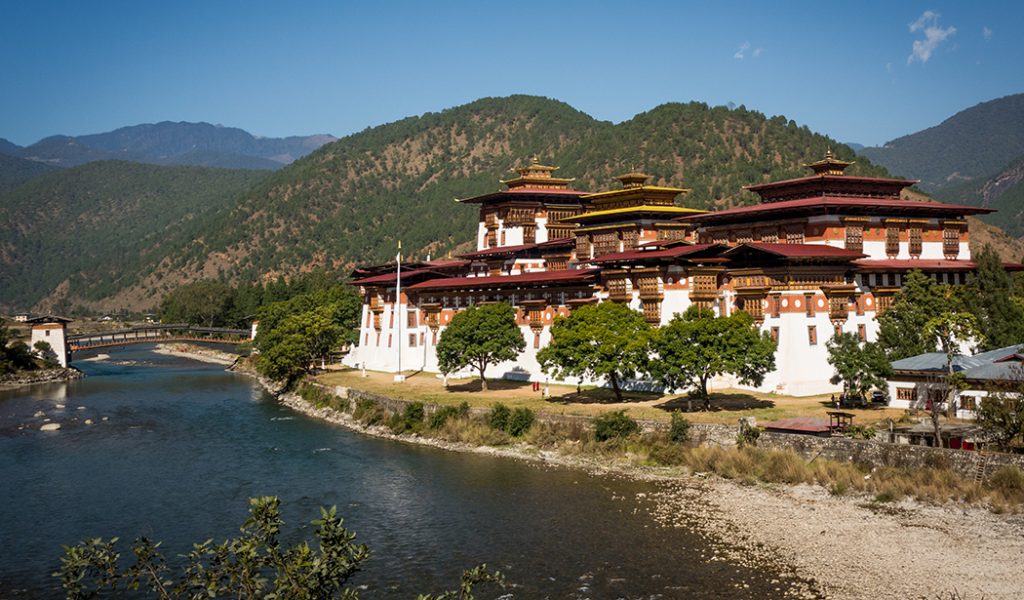 Punakha is the old capital of Bhutan and still the winter residence for the monk body. After breakfast drive to Khamsum Yuley Namgyel chorten and hike to the temple. The hike will take 1 hour each way and its very beautiful hike passing through rice terrace. After lunch drive to Thimphu over Dochula pass 3100 m above the sea level. Driving Time: 2 hours Overnight: Thimphu Elevation: 2200m
Day 11. Thimphu-Paro.
Thimphu is the capital of Bhutan. The rural-urban migration is very high here. More than 100,000 people live here in Thimphu which is one seventh of Bhutan population. In the morning drive 30 mins north of Thimphu and hike to Charig monastery. This is the 1st monastery built by Zhabdrung Ngawang Namgyel the monk ruler from 17th century. Later in the afternoon visit sitting Buddha, visit handmade paper factory, painting school and vegetable market. In the evening drive to Paro.
Overnight: Paro Elevation: 2300m
Day 12.
After breakfast drive about 20 mins and hike to Bhutan famous monastery, Tiger's nest(Taktsang), is one of the most venerated religious sites. Legend says that Guru Rinpoche flew to this site on the back of a tigress to subdue a local demon.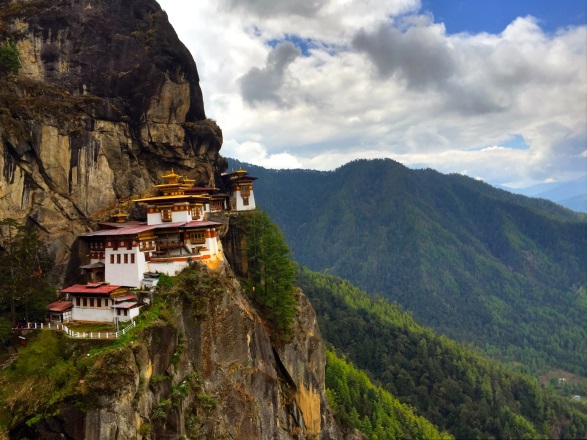 Afterwards, he mediated here for three months. This beautiful building clings to the sheer cliffs soaring above a whispering pine forest. The steep walk to the monastery is well worthwhile, providing tantalizing glimpses of the monastery and view of the Paro valley. Lunch will be served at Taktsang Cafeteria. After lunch hike back and then to the hotel. After hot shower you can drive to the town for last minute shopping.
Overnight: Paro
Day 13. After early breakfast drive to Paro international Air port to catch your onward flight.
BHUTAN TASHI PELBAR ADVENTURE WISHES YOU A SAFE FLIGHT !