People of Bhutan
Agriculture is the main source of people living here & almost 75% of the population is into farming. There are mainly three ethnic groups – Ngalongpas in the west, Sharchopas in the east and Lhotshampas in the south. There as many as 19 dialects that are spoken in the countryside, but the national language is the Dzongkha. It is the official language used in offices and for administrative purposes. Along with Dzongkha, the English language is also used for official purposes & nowadays is a part of curriculum in all major schools.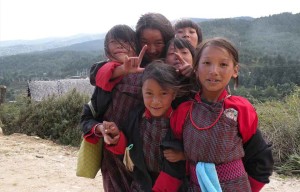 The national dress of Bhutan is the 'Gho' for men and 'Khira' for women. It is necessary to wear this national dress when in public places and for formal occasions. This is an initiative by the government to preserve the unique traditions of the country from the onslaught of western influence. Other than these, the dress is also accompanied by colorful scarves (for men) and shawls (for women) to show their social standing and higher status. Tourists are free to wear the clothes of their choice.
Bhutanese women enjoy an enviable status as compared to women in other Asian countries. They inherit the family wealth, land, etc. and are free to marry according to their liking. Monks enjoy an elevated status in the Bhutanese society & revered by one and all. Any religious occasion, family occasion or any other important event is considered incomplete without the presence of Monks.
Society
Caste System, a curse of all developing nations & most societies around the world, is largely missing from the Bhutanese society. Women enjoy equal rights as men. Traditional Etiquettes involve wearing the scarf when entering a Dzong or an office. Monks and elders are treated with the highest degree of respect. On important occasions like marriages, promotions, etc., Felicitation Scarves are offered as gifts. 'Kuzuzangpo' is the term generally used by people to greet one another. In case of senior officials or elders, 'Kuzuzangpola' is used. Having an open and fun loving society, the Bhutanese people enjoy activities like singing, archery, stone pitching, partying, dancing, etc.