Day 01: Arrival Paro
Your flight to Paro will be either from Calcutta / Bangkok / Kathmandu / Dhaka / Delhi or depending on one's international flight connection via Road from Phuentsholing southern part of Bhutan. Druk Air flies from these destinations. When you are about to land Paro you will see the spectacular beauty of our country. In clear weather, views of the world's highest peaks, including Chhomolhari (mountain Goddess) and other magnificent Himalayan snow peaks to the beautiful Paro valley as you land. The representative from our travel agent will escort you to the hotel.
After lunch, we will visit National Museum (Watch Tower). This museum has a very interesting assortment costumes and different treasures and world-renowned stamps, it will bring the history of Bhutan from the 6th century onwards. Visit Paro Dzong (Fort), Headquarter of Paro District and walk down to the cantilever bridge over the Pa-chu River. Paro altitude: 2250 meters.
Day 02: Full day Paro Sightseeing and hike to Tiger Nest.
Based on the mirror- like cliff at a height of 900 meters above the lush valley of Paro is one of the most sacred places in Bhutan. Guru Rinpoche, the second Buddha, flew here on a flying Tigress and meditated here for three months in in 8th century. Here he propagated Vajrayana- Mahayana Buddhism (Larger Wheel) that was prophesied by the Buddha at the time of attaining Nirvana.
In April 1998, a fire destroyed the main structure of the buildings and its religious contents. A complete restoration was done and resulted in a carbon copy of the original. This place beholds the history of The Hidden Land. The return walking time is approximately five hours.Then we proceed further to visit the ruins of Drukgyel Dzong. Which was by built Shabdrung Ngawang Namgyal in 1649. It was caught fire in 1951.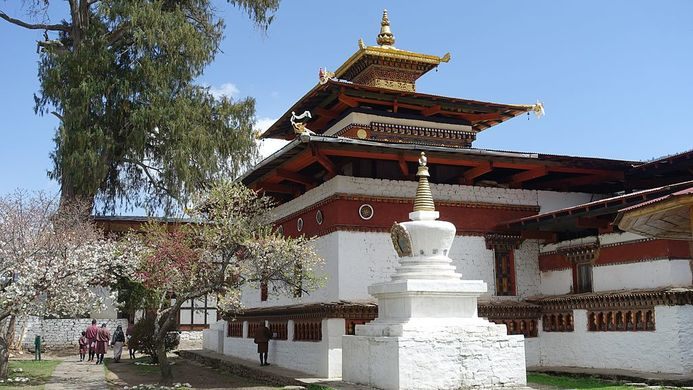 On the way back you will have the pleasure to visit one of the oldest monasteries we have in Bhutan, The first King of Tibet Songtsen Gampo built Kyichu Lhakhang in 7th century to introduce Buddhism into our country, while our country was still influenced by the Bon beliefs
Day 03 : Drive to Thimphu and sightseeing.
After breakfast drive to Thimphu is 2 hours through winding roads following the Pa-Chu (Paro River) down stream to its confluence with the Wang-Chu (Thimphu River) and with good views of the forests, Rocky Mountains & scattered villages. As we enter the Thimphu valley we will pass through Semtokha Dzong built in 1629 by Shabdrung Ngawang Namgyel (The man who unified Bhutan) Semtokha now houses a language and cultural schools where scholars of all the ages study Dzongkha (National Language).
In afternoon drive to the memorial Chorten (Stupa) built in the memory of His Majesty King Jigme Dorji Wangchuk. He is regarded as the father of modern Bhutan. Visit the National Library, which holds ancient Buddhist texts, historical books, and some very famous manuscripts written with gold ink and see the world's biggest picture book.
A three-minute drive to the Traditional Medicine Institute will show you where medicines are prepared from plants, flowers and animal's bones according to ancient practices and acupuncture is its main discipline. Visit the Art & Painting School, where the students learn the 13 different kinds of Bhutanese Arts. Driving time: 2 hours.
Day 04 : Fullday Sightseeing Thimphu. (Lot of hikes depends on one's interests)
In the morning visit Changangkha monastery (Temple), which was built in 12th century, visit the viewpoint where we can get a birds eye view of the capital Thimphu, visit Takin our National animal, visit Nunnery, which is NGO in the Kingdom.
Afternoon some of the highlight visits will be, Textile Museum, Folk heritage museum and Bhutanese traditional handmade paper factory. Visit Dechen Phodrang monastic School; visit General Post Office, where you will see the finest stamps of Bhutan and capital building of Bhutan (Tashi Chhodzong) except after 5 p.m. & holidays.
Day 05: Drive Thimphu to Punakha.
the Drive to Punakha via Dochula Pass- 3150 masl overlooking the high Himalayas and the lush green valleys of Talo and Mendigang, lunch at Punakha and sightseeing including a visit to the exquisite Punakha Dzong, which it was the old capital of Bhutan. On the 17th December 1907, the first king of Bhutan was crowned here and every consecutive year on this date we celebrate national day in Bhutan. After visiting the Dzong drive further to do a mini hike to Khamsum Yuelley Namgyel Chorten and once you reach the top you will see the winding view of the Mo-Chu River and villages below. If you look towards the north you will see the snow capped mountains. Driving time: 3 hours.
Day 06: Punakha to Paro via Thimphu.
In the morning, after break fast drive towards Wangdue Phodrang another district that is half an hours drive from your hotel. Before you reach there, take little hike to the Divine Madman Monastery and this is the only monastery we have in Bhutan belonging to him and by visiting this you will know about his unorthodox teachings.
This Saint from Tibet who came to Bhutan in 15th century to introduce the Drukpa Kagyugpa sect of Buddhism to our country built this monastery; he is known as the Lama Drukpa Kuenley and called the divine mad man. His sexual nature and jokes were to be a very unique of spreading the religion to the local communities
Wangdue Phodrang is another district and the Dzong was built in 1638 a year after Puankha Dzong. The fourth temporal ruler of Bhutan, Gyelsey Tenzin Rabgye, enlarged it in 1683. His reincarnation is now 15 years old and lives in Thimphu Tango Monastery.
Just before you cross the Punatsangchu checkpoint, here they check the passes of passengers and vehicles. You will see the Wangdue Phodrang Dzong believed to build on the back of sleeping giant an elephant as the legend says. After crossing the bridge if you happen to look back you will see the beautiful village of Rinchengang, nestled on a vertical hillside and famous for its stonemasons. Buffeted by afternoon winds, Wangdue Phodrang is an important stop off point. Drive back to Paro for tomorrow's departure.
Day 07: Departure.
In the morning your Tour guide will bid you farewell at Paro Airport.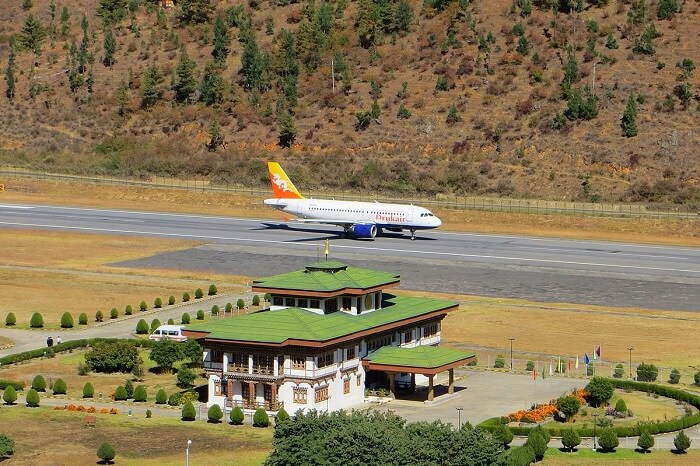 BHUTAN TASHI PELBAR ADVENTURE WISHES YOU ALL A SAFE FLIGHT BACK HOME!